Gathering around the barbeque has always been a popular pastime to entertain, but a new trend has emerged that is more complex than the patio: the outdoor kitchen. The patio kitchen has become especially popular in areas that receive more sunny days throughout the year since that means you can enjoy them more, but some homeowners have gotten creative and added an outdoor kitchen or put one in a screened-in patio. 
One of the best ways to decorate your outdoor kitchen is with stone or brick, but its price is often too high for many homeowners, especially since you have to pay a mason to install it. One incredible alternative to using natural stone and brick that offers the same beauty at a fraction of the cost — GenStone. GenStone is a completely DIY-friendly stone veneer that is Class A fire-rated, so the heat from your barbeque will not melt your Stacked Stone, and it is waterproof, so rain or spills will not ruin it either. Here, we will look at some tips for building an outdoor kitchen with Stacked Stone. 
What Do You Plan to Use the Outdoor Kitchen For?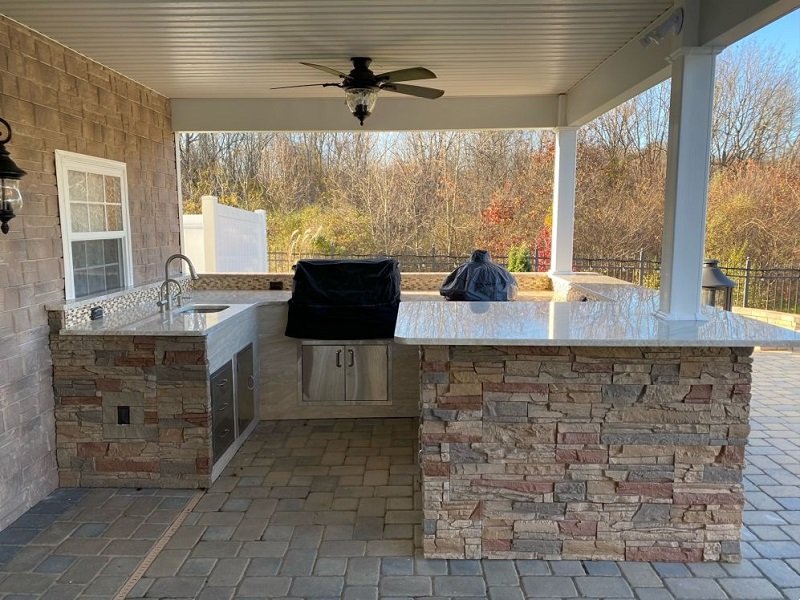 The first thing to determine is what you plan to use the kitchen for. For example, do you just want to cook outside without having to go back inside for dishes, utensils, and drink refills? Or do you want to prepare gourmet meals outside while you entertain friends? 
Once you decide this, you can begin to plan what amenities your kitchen will need.
What You Like to Cook?
What you like to cook and serve outside is also an important thing to factor in. You probably want a barbeque, but you can also include a rotisserie, smoker, teppanyaki plates, and even an oven. Do you want to include a sink? How about a mini-fridge or freezer? This planning stage is where to consider these options.
Where to Put the Kitchen?
When you decide to build an outdoor kitchen, one of the first things to determine is where to put the kitchen. Of course, the patio is the usual location, but this is a time to get creative. You can put it up against the house, which is a popular location, or you can put it in your gazebo or simply lining the side of the deck.
If you have a screened-in porch, that is a great place for the kitchen since you can use it year-round, instead of only in the sunny months. If you have a pool, making a poolside bar and BBQ station is a great option too. 
Kitchen Layout 
After you have decided where you want to put the kitchen, you will have a better idea of how much space it has, so you can begin planning its layout — deciding where to place the grill and other cooking appliances in relation to the prep areas, sink, and mini-fridge. The simple approach is to divide it into prep, cooking, and serving, giving the kitchen a sleek pipeline for everything from start to finish.
Pass-Through Window 
One thing that makes people hesitate to build their own outdoor kitchen is the thought of carrying all of the food and utensils in and out of the house. If this is the case for you, if your kitchen is already off your patio, as many tend to be, you can set up a pass-through window or counter between the indoor and outdoor kitchens. Then you will not need to walk in and out to prepare a meal outside; you can pass everything through as needed. If you do not plan to build a complete kitchen, just a grilling station for your barbeque with a mini-fridge and sink, you can utilize the pass-through window for everything else you need to do in the indoor kitchen. 
If you decide to include a pass-through window, you can factor it into your kitchen layout; putting the prep or serving areas under it, so you will not have to reach over your cooking section to grab something from the window. 
Placing Your Stacked Stone
There are countless ways that you can place stacked stone on your outdoor kitchen. For example, if you place the kitchen against the house or covered patio, you can put it against the wall behind the kitchen. 
You can place the Stacked Stone up against the sides for the kitchen, around the cupboards. This is a relatively simple design, but it does require more cutting and measuring because it has to go around so much more. Nevertheless, it is the most popular way to add GenStone's products to outdoor kitchens or grill stations. There are endless possibilities to how you can install it, so you can get creative!
About the Author:
Auz Burger is a freelance writer who specializes in faux stone and brick veneer and home DIY projects. She has a BA from Washington State University and has been writing and editing professionally for 11 years.