After you begin planning the wedding of your dreams, it occurs to you that this is SUCH hard work! Basically, planning a wedding is like having a second job. I mean, it's a fun job, but it's an insane amount of work.
So, you may have thought, "I don't want to lose my mind planning this thing." It makes sense! You want to enjoy the process of getting married.
So your ultimate goal is a no-sweat wedding that represents both of you. Your closest friends and family, a big, amazing party, and your love.
Right?
The problem with online resources is that they are often geared toward your dream wedding.  They are assuming you want to do Martha Stewart-level DIY projects and spend a lifetime paying off the rental space.
If the words no-sweat appealed to you in the title of the blog, it means that you are not looking for those things. You are looking for ease!
You are looking for a wedding where you actually have a chance of enjoying the wedding night. (wink)
The Big One-Stop-Shop Wedding Websites
There are a few great one-stop shops for wedding websites, budgeting, and general all-purpose knowledge.
Best of all, each of these also has local vendors AND a wedding planning tool (trust me, gone are the days of the binder–when you can put everything into a convenient wedding planner online!
By now, extremely well-established, the Knot is an amazing wedding planning resource. Among the best of this website is an incredibly thorough planning section, a whole area for local vendors, an attempt to expand even more diverse wedding cultures and a registry!
In terms of budget planning resources, Zola has some great features, including a live person to help you with your wedding planning (at the beginning when you're like, how on earth am I going to do this?) and an app that enables you to share all planning with your spouse-to-be.
Both of those sites offer the opportunity to create a wedding website (so helpful for "going green" and not having to send out save the dates, reminders, invites and even thank-yous). You can use the digital space to do whatever you need out of that.
You may also want a resource that is just a wedding planning app like Wedding Happy. Wedding Happy has a very popular feature that enables you to create a timeline and live checklist visible to you (and anyone else you include).
Reviews of the Wedding Happy app are generally five stars from brides who felt they could never have lived without it. . . from all over the world!
Dressing Everybody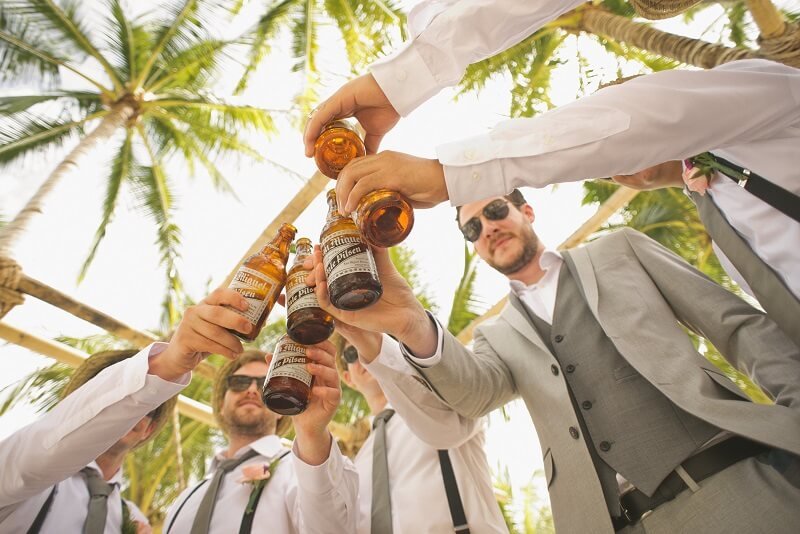 If you're not familiar with Men's Wearhouse, you have been living under a rock. This site provides not only a huge opportunity to rent suits at reasonable prices, but also guides on how to dress the men in your wedding, which makes it a great men's suits resource.
Their current competitors, urging you to ditch the warehouse, are also a great source–perhaps more upscale, with lots of options and guides on buying suits. A great resource for suits that you can rent or keep, the Black Tux also has a guide on how to buy a suit for each man's frame.
Bridesmaid dresses (and of course bridal gowns) are much easier to find. Your local bridal shop is often the place to start, and it's one of those occasions where you want the full experience (hopefully not like the one that turns into mass diarrhea in the movie Bridesmaids).
A few resources for online bridesmaid dresses include Kennedy Blue which has a convenient "try this on at home" system. You can order dresses at $10 a dress and return them, giving each bridesmaid a chance to try on and decide if they love their dress for far less money and hassle than the normal $200 per dress.
I also like this resource for your hippie bridesmaids which features more bohemian-style bridesmaids dresses, perfect for the vintage, rustic, outdoor and even beach weddings.  It's worth a look so you don't have the same old bridesmaid styles that haven't changed for about 30 years!
Gifts For Everybody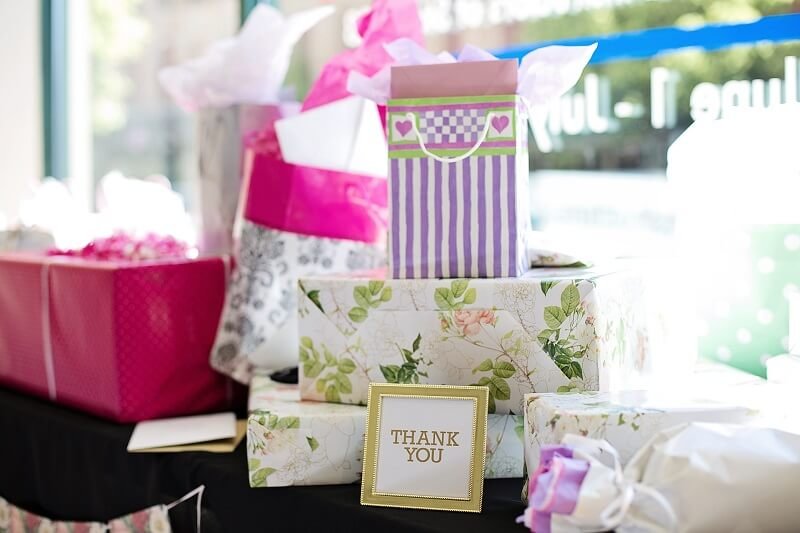 You may not have thought of it first, but you're going to want gifts for everyone in your wedding party. This is not the most fun of tasks–going shop to shop trying to get "inspired" to find the right gifts for your groomsmen, bridesmaids, mother of the bride and groom, the List. Goes. On.
So, in the comfort of your bedroom or cubicle (I don't know where you do your online shopping, but those were always my favorites), check out some of these resources. Here is an excellent groomsmen gift resource.
Groomsmen Gift Ideas has all sorts of classic, elegant gifts–and there is a comfortable price range, from gifts in the low $30 range to $120 for the complete bartender set.
Gifts for men can also all be personalized which is great for making each gift completely unique, or giving your guys a sense of unity, with each in the group getting his own name on his gift.
Bridesmaids gifts are a bit harder to come by, but Mark & Graham has beautiful, creative bridesmaids gifts at this bridal party gift resource, which has stuff for pretty much everyone, but especially classy gifts for bridesmaids, most of them personalized or monogrammed.
It is important to mention the largest resource for personalized gifts in general, Etsy. Here, it is easy to get lost in the world of possibilities–but beautiful, personalized jewelry (which tends to be a big hit) can be found in different qualities and prices.
In addition, Etsy has wonderful, personal reviews on almost everything you'd consider buying. Former customers attest to quality for each product.  It's so helpful.